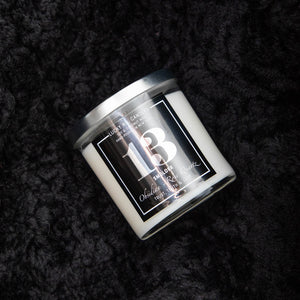 Lucky No. Candles
Metal Collection no.13 - Smolder
Regular price
$36.00
$0.00
Unit price
per
The Metal Collection - Lucky No. Candles with a clear container and metallic label that glows in an associated numerology color.
NO. 13 - SMOLDER
SPICE - WOOD - FLORAL (Neutral & Woodsy) 
Smoldering campfires and orchids. Strong, robust, and earthy. Spiked coffee on a brisk morning. Obsidian and rose quartz for love, trust, and truth. 8 oz.
Approximately 60 hours burn time.  
Lucky No. Candles are made with a luxury, body-safe, coconut soy wax. 
---