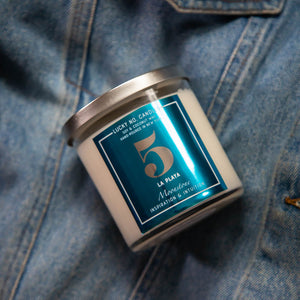 Lucky No. Candles
Metal Collection no.5 - La Playa
Regular price
$36.00
$0.00
Unit price
per
The Metal Collection - Lucky No. Candles with a clear container and metallic label that glows in an associated numerology color.
NO.5 - LA PLAYA
CITRUS - SPICE - SWEET (Fresh & Clean)
Playful and light. Bergamot, spices, and mandarin. Moonstone for inspiration and intuition. 8 oz. 
Approximately 60 hours burn time.  
Lucky No. Candles are made with a luxury, body-safe, coconut soy wax. 
---