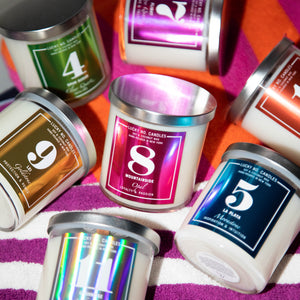 Lucky No. Candles
Everything - Metal Collection
Regular price
$333.00
$0.00
Unit price
per
 That's right, take it all. You deserve it.
Associated with corresponding numerology colors, your favorite Lucky No. Candles (with the same scents and stones you know) now have a shining colorful glow as part of The Metal Collection.
All 12 Lucky No. Candles are included in this deluxe set of Lucky No. Candles Everything - Metal Collection. Each scented candle is made with a luxury, body-safe, apricot coconut soy wax and burns on average 60 hours. 
Everything - The Metal Collection includes:
No. 0 - Freedom (Unscented)

No. 1 - Yuzu & Sea Salt

No. 2 - Dry Spice

No. 3 - White Lime

No. 4 - Spun Sugar

No. 5 - La Playa 

No. 6 - Flora Blanca

No. 7 - Flight

No. 8 - Mountainside

No. 9 - LEI

No. 11 - Cashmere

No. 13 - Smolder
Looking for the classic black Lucky No. Candles look? Find them here.
---